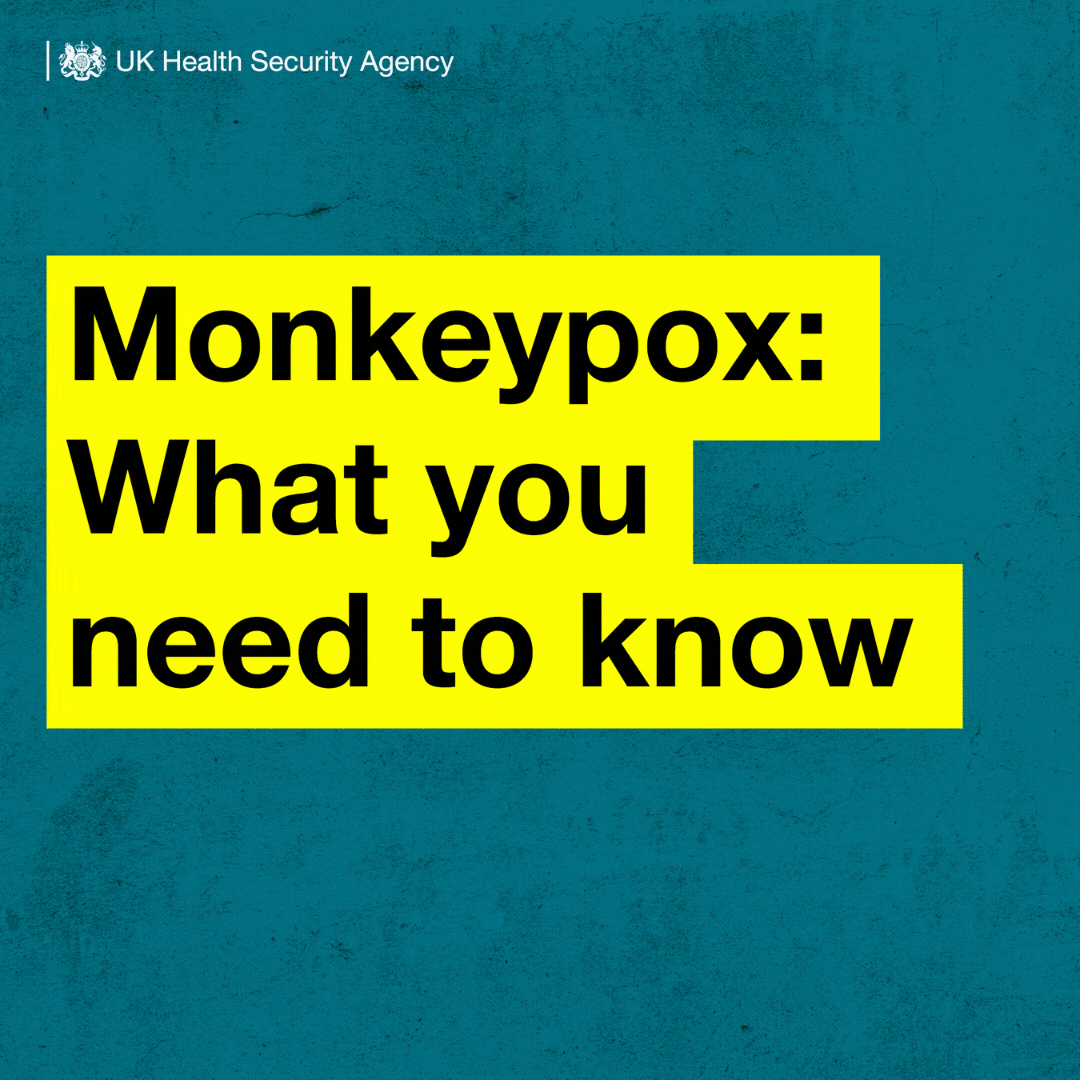 If you are a man who has sex with other men and have a new rash, please call our reception line to book a telephone triage appointment   0117 342 6900.
For up to date information on the current Monkeypox cases from the UK Government, click here.
Vaccination
The UK Health Security Agency (UKHSA) has announced that Mpox vaccinations are being discontinued in the summer 2023. With the announcement from UKHSA signalling the end of an outbreak programme, following timeline for the phased end as follows.
People at risk of Mpox to come forward for a

first dose

by 16 June 2023.

To have completed second doses by 31 July 2023.
To book an appointment in Bristol for Mpox vaccination please see the link below. This is updated intermittently when we have supply of vaccine available.
UHBW, Bristol Heart Institute atrium – Book here https://my.drdoctor.co.uk/clinic/UHBW-MPX
Next UHBW clinics are:
Sat 17/06 both doses available
Sat 22/07 second doses only
Evening of 26/07 second doses only
You can also check other centres outside of Bristol for vaccination clinic availability here https://www.nhs.uk/conditions/monkeypox/find-a-monkeypox-vaccination-site/
Email queries related to mass vaccinations can be sent to:
· Please note that vaccination availability is closely monitored. The UKHSA are applying a strict eligibility for who can have a vaccination.
· From now on, mass vaccination events will be for both first AND second doses (you need to wait for 28 days after your first dose to have a second dose).
There are some Frequently Asked Questions lower down on this page about accessing vaccinations. 
The vaccine being used is the smallpox vaccine, which is a closely-related virus. Detailed information about the vaccine can be found here. You can also read more information on the vaccine on the document below.
Vaccine information in audio format can be found here.
As supplies of the vaccine are limited, the immunisation programme is currently focused on high risk gay, bisexual and other men who have sex with men, who:
Have been diagnosed with a sexually transmitted infection in the past year.
Regularly have sex with new partners.
Are current users of PrEP.
*Please note, only your mobile phone number will be shared with the vaccination service. All other information held by Unity remains confidential and cannot be seen by the vaccination team, or anyone from NBT or UHBW main Trust teams.
Patients may also be offered a vaccine as a part of routine sexual health care if eligible, in line with Government guidance.
There are some exclusions to be aware of that may prevent or delay your vaccine:
Symptoms of Monkeypox or current Monkeypox infection.
Allergy to chicken eggs and feathers.
Allergy to Gentamicin or Ciprofloxacin antibiotics.
Must be afebrile (you must not have a high temperature).
No recent Smallpox vaccine (there must be a minimum of 28 days between 1st and 2nd dose of vaccination).
Small chance of worsening dermatitis symptoms (not an exclusion).
Please don't contact your local clinic to get the vaccine. Information about vaccine availability will be updated on this website. You can also speak to your Doctor, Nurse or Health Adviser about it when you visit Unity Sexual Health.
Please be aware that if you are a contact of a confirmed case of Monkeypox, you will be contacted by the Public Health team to arrange a vaccination, not at Unity.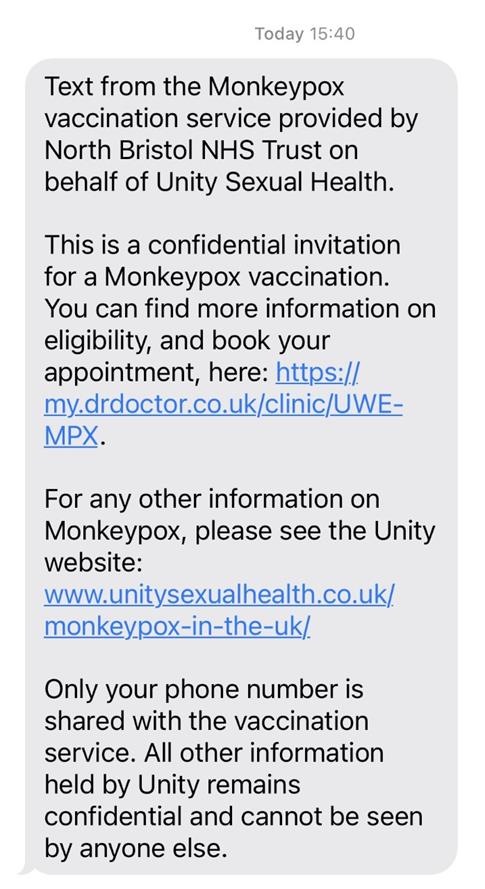 The text message for the official Monkeypox mass vaccination service looks like this….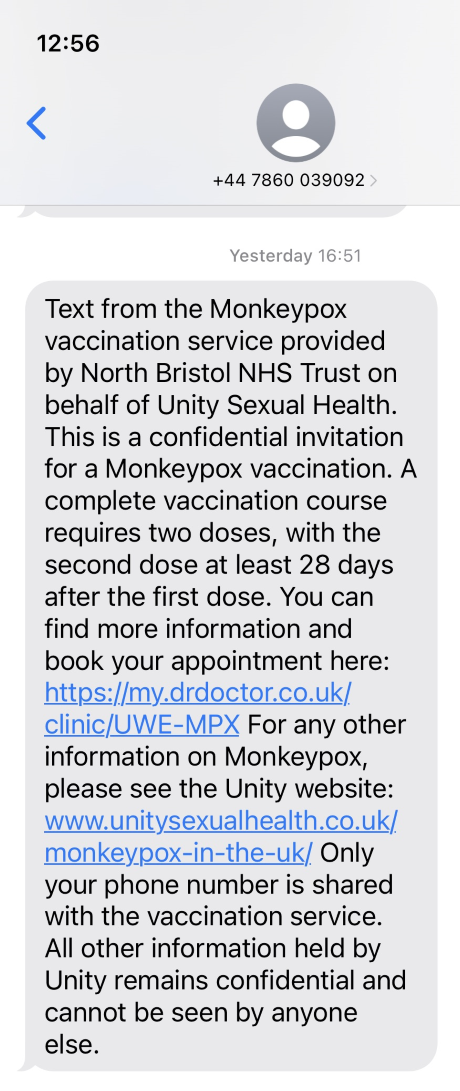 Locate a confidential service
Find your local Pharmacy or Clinic and book a confidential appointment.
---